Pacific Northwest Region
---
Upcoming Events - PNR Officers - PNR Committee Chairs - PNR Divisions
PNR Documents (Minutes, Policies, etc.) (PDF files) - Regional AP Information
The Switchlist - the newsletter of the PNR
Join/Renew - Membership form - US members (Online/PDF) - NMRA Canada - Canadian Members (Online/PDF)
---
2023 PNR Regional Convention
The Prairie Line Experience
2023 May 10-14.
Tacoma, WA, Comfort Inn and Suites
More Info:- The Prairie Line Experience
Check the websites for individual events to ensure they have not been canceled due to Coronavirus (COVID-19)
2023
May 19-21, Regina, AB
Queen City Express 6th Division, Pacific Northwest Region, National Model Railroad Association, Spring Meet. Info:- www.queencityexpress.ca.
May 26-28, Burnaby, BC
Railway Modelers Meet of British Columbia (RMMBC) Virtual (May 4 & 18), and live at Simon Fraser University. The emphasis is primarily on "modelling," as the name implies, with many interesting clinics, layout tours, and operating sessions. Latest information at: www.railwaymodellersmeetofbc.ca/
Jun 2-4, , OR
Western Oregon Operations. Info:- www.woopsonline.org
Aug 13 (Sun), Parksville, BC
Parksville Museum Railway Day: Sunday August 13th from 10 a.m. to 4 p.m. Layouts, swap tables, concessions and music. Entry and swap table cost by donation. Further details forthcoming by the end of March. Contact Colin Frame at frameasc@gmail.com
Sep 9 (Sat), Kelso, WA
Longview, Kelso & Rainier Model Railroad Club Fall Swap Meet & Train Show, Three Rivers Mall, Kelso, Washington, 10:00 AM to 3:00 PM, Admission $5, Children under 12 free with Paid Adult, Early Bird Special: get in between 9AM and 10AM for $10.00 Each. Free Parking! 200 Tables for Vendors, On-Site Food Vendor, Vendor Info: $25 for 8' table, bring your own cover, setup 5:00-9:00 PM Friday & 7:00-10:00 AM Saturday. For more info, visit lkrtrains.yolasite.com or contact Rich Easly at 360-431-5790 or Kmann_98632@Yahoo.com.
Oct 14 (Sat), Calgary, AB
42nd Annual Boomer Auction, Sponsored by South Bank Short Lines, (www.sbsltrains.ca) St. Andrews Presbyterian Church, 703 Heritage Dr. SW. Setup and viewing 08:30am, dining car opens 09:30 am, auction starts at 10:00am.
Oct 14 (Sat), Spokane, WA
River City Modelers, 1130 E. Sprague Ave., open house from 4 to 8 p.m. Stop by to see the River City Western in operation. This is a 41 x 48 ft. two-level HO scale layout representing operations from the Cascade Mountains through Central and Eastern Washington into the Idaho Panhandle. Info:- 509-535-3462 or email rcminfonow@gmail.com
Oct 15 (Sun), Spokane, WA
Fall Model Train Show, sponsored by River City Modelers, Spokane County Fairgrounds, 404 N. Havana, Bldg. A, B and C. 9:30 a.m. to 3:30 p.m. Admission $6 cash for adults, 12 and under free. Over 200 tables of all things model train and railroad related. Free-mo layouts in HO and N, Wtrak for kids to play with, Operation Lifesaver and other layouts too. For more information or table reservations, please contact: Shirley Sample, P.O. Box 3065, Spokane, WA 99220-3065 or 509-991-2317 or via email: shirleysample13@gmail.com
Oct 15 (Sun), Calgary, AB
CMRS Fall Mini Meet and AGM, Clinics, Show & Tell. More information at The Calgary Model Railway Society
To add your activities to the 'PNR Train Orders' (regular member email), or this PNR web page, contact the Timetable Editor, Mark Johnson at
President: Jeff Herrmann
Phone: 714-651-3903
Email:
Vice President: Bob Parrish MMR
Phone: 208-866-4601
Email:
Secretary: Stirling Millar
Phone: 306-519-1369
email: admin@stirlingmillar.space
Treasurer: Rick Martin
Phone: 208-665-5748
email: PNR-Treas@outlook.com
Asst. Treasurer (Canada): L. A. (Larry) Sebelley
Phone: 604 858 5717
Email: sebelley@shaw.ca
Asst. Treasurer (US):

Office Manager: James Keena
Phone: (562) 696-9928
Email: Keenajames1@gmail.com
Immediate Past President: Kurt Laidlaw
Phone: 253-495-8351
email:
Achievement: Bill Fassett
email: b.fassett@comcast.net Regional AP Information
Ballot, USA: Volunteer wanted

Ballot, Canada: Richard A. Sutcliffe
Phone: 604 467 4301
Email: ras1@uniserve.com
Contest: Christopher Jones
Phone: 541-396-0555
email: lllandcij@aol.com
Convention:
L. A. (Larry) Sebelley
Phone: 604 858 5717
Email: sebelley@shaw.ca
Education: Jim Rice

President's Award: Dave Liesse
Phone: 253-343-3445
email:
Membership: Bob Parrish MMR
Phone: 208-866-4601
Email:
Nominations: Shirley Sample
Phone: 509-292-8332
Email:
PNR Registered Agent: Dave Liesse
Phone: 253-343-3445
email:
"SWITCHLIST" Editor: Greg Kujawa
Phone: 406-589-6256

Webmaster: Mark Johnson
email: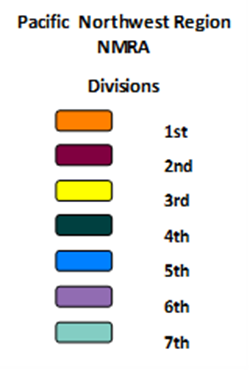 All Division boundaries coincide with those of the Canadian Provinces and Territories or the American States except as described below:
---
Most recent update (except for events): April 3, 2023
This NMRA on the Web page is maintained by:
Mark Johnson, Mark.Johnson@InfoHarvest.ca.
Copyright 1995-2023 by the National Model Railroad Association. All Rights Reserved.