Pacific Northwest Region
---
Upcoming Events - PNR Officers - PNR Committee Chairs - PNR Divisions
PNR Documents (Minutes, Policies, etc.) (PDF files) - Regional AP Information
The Switchlist - the newsletter of the PNR
Join/Renew - Membership form - US members (Online/PDF) - NMRA Canada - Canadian Members (Online/PDF)
---
2023 PNR Regional Convention
The Prairie Line Experience
2023 May 10-14.
Tacoma, WA, Comfort Inn and Suites
More Info:- The Prairie Line Experience
Check the websites for individual events to ensure they have not been canceled due to Coronavirus (COVID-19)
2022
Nov 19-20, Adair Village, OR
Corvallis Society of Model Engineers Open House. (New location). 6070 William Carr Ave. Hours: 10 – 4 pm. $5 ages 13+, 12 and under are free. Info:- csmeclub1959.com
Nov 19 (Sat), Rickreall, OR
Polk Station Rail Model Train Swap Meet with Operating Model Railroad. Rickreall Grange Hall, 280 Main St (Hwy 99).
Nov 26-27, Central Point, OR
43rd. Annual Rogue Valley Railroad Show to benefit the Medford Railroad Park. Jackson County Expo, 1 Peniger Road. Info:- facebook.com/roguevalleyrailroadshowmedfordpark/
Dec 3 (Sat), Rickreall, OR
Train Show/Swap Meet sponsored by Willamette Valley Model Railroad & Operating Museum Polk County Fairgrounds at crossroads of Hwy 22 and Hwy 99W. It is 10 miles west of Salem, Oregon off Hwy 22. 9:30 am to 2:30 pm Fees: $5.00 adults, children 12 and under free Tables $30.00 ea. Contact: 503-581-6071. macinnej@msn.com. Judy MacInnes www.wvmrm.org Over 100 tables, (all scales of trains). A large variety of trains and railroad items available to purchase. The parking is free and the site is handicapped accessible. This is our 20th show at this site and everyone has been pleased with the selection and prices.
Dec 17 (Sat), Spokane, WA
River City Modelers Christmas Open House, 1130 E. Sprague Ave., Spokane, WA 99202 from 2 PM - 8 PM. For more information call 509-535-3462 or email rcminfonow@gmail.
2023
Feb 25-26, Monroe, WA
30th Annual Washington State Model Railroad Show and Marketplace Evergreen State Fairgrounds, in Monroe, WA - 14405 179th Ave SE 98272 Info:- www.facebook.com/unwclub
Mar 4 (Sat), Spokane, WA
River City Modelers, 1130 E. Sprague Ave., open house from 4 to 8 p.m. Stop by to see the River City Western in operation. This is a 41 x 48 ft. two-level HO scale layout representing operations from the Cascade Mountains through Central and Eastern Washington into the Idaho Panhandle. Info:- 509-535-3462 or email rcminfonow@gmail.
Mar 5 (Sun), Spokane, WA
Fall Model Train Show, sponsored by River City Modelers, Spokane County Fairgrounds, 404 N. Havana, Bldg. A, B and C. 9:30 a.m. to 3:30 p.m. Admission $6 for adults, 12 and under free. Over 200 tables of all things model train and railroad related. Free-mo layouts in HO and N, Wtrak for kids to play with, Operation Lifesaver and other layouts too. For more information or table reservations, please contact: Shirley Sample, P.O. Box 3065, Spokane, WA 99220-3065 or 509-991-2317 or via email: shirley@busnws.com.
Mar 11 (Sat), Portland, OR
Willamette Model RR Club Annual Swap Meet. Kliever Armory, 10000 NE 33rd Drive. Info: wmrrc.com
Mar 11 (Sat), Elsie, OR
Pacific Model Loggers' Congress. Camp 18 Restaurant and Logging Museum, Milepost 18, 42362 Highway 26. Info: pacificmodelloggerscongress.org/
Apr 30 (Sun), Helena, MT
Annual Helena Railroad Fair, Helena Civic Center, Info:- rrfair@mt.net
May 10-14, Tacoma, WA
2023 Pacific Northwest Region Convention"The Prairie Line Experience" including multiple tracks of clinics, layout tours spanning the region, contests, AP evaluations, train spotting opportunities, tours and non-rail events. At the Comfort Inn and Suites. Info:- www.pnrtacoma2023.org
To add your activities to the 'PNR Train Orders' (regular member email), or this PNR web page, contact the Timetable Editor, Mark Johnson at
President: Jeff Herrmann
Phone: 714-651-3903
Email:
Vice President: Bob Parrish MMR
Phone: 208-866-4601
Email:
Secretary: Stirling Millar
Phone: 306-519-1369
email: admin@stirlingmillar.space
Treasurer: Rick Martin
Phone: 208-665-5748
email: PNR-Treas@outlook.com
Asst. Treasurer (Canada): L. A. (Larry) Sebelley
Phone: 604 858 5717
Email: sebelley@shaw.ca
Asst. Treasurer (US):

Office Manager: Ed Liesse
Phone: 253-529-7405
Email: EELiesse@aol.com
Immediate Past President: Kurt Laidlaw
Phone: 253-495-8351
email:
Achievement: Bill Fassett
email: b.fassett@comcast.net Regional AP Information
Ballot, USA: Volunteer wanted

Ballot, Canada: Richard A. Sutcliffe
Phone: 604 467 4301
Email: ras1@uniserve.com
Contest: Christopher Jones
Phone: 541-824-0154
email: lllandcij@aol.com
Convention:
L. A. (Larry) Sebelley
Phone: 604 858 5717
Email: sebelley@shaw.ca
Education: Jim Rice

President's Award: Dave Liesse
Phone: 253-343-3445
email:
Membership: Bob Parrish MMR
Phone: 208-866-4601
Email:
Nominations: Shirley Sample
Phone: 509-292-8332
Email:
PNR Registered Agent: Dave Liesse
Phone: 253-343-3445
email:
"SWITCHLIST" Editor: Greg Kujawa
Phone: 406-589-6256

Webmaster: Mark Johnson
email: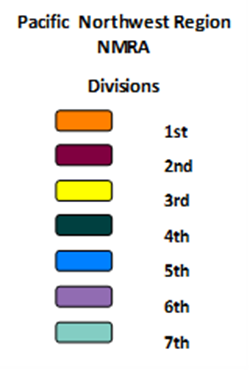 All Division boundaries coincide with those of the Canadian Provinces and Territories or the American States except as described below:
---
Most recent update (except for events): November 15, 2022
This NMRA on the Web page is maintained by:
Mark Johnson, Mark.Johnson@InfoHarvest.ca.
Copyright 1995-2022 by the National Model Railroad Association. All Rights Reserved.