Pacific Northwest Region
---
Upcoming Events - PNR Officers - PNR Committee Chairs - PNR Divisions
PNR Documents (Minutes, Policies, etc.) (PDF files) - Regional AP Information
The Switchlist - the newsletter of the PNR
Join/Renew - Membership form - US members (Online/PDF) - NMRA Canada - Canadian Members (Online/PDF)
---
PNR 2018 Regional Convention: Stumptown Express
Portland, Oregon
May 30 - June 2, 2018


2017

Nov 11-12, 18-19, 25-26, Portland, OR
Columbia Gorge Model Railroad Club Annual Show, 2505 N. Vancouver Ave. 10:00 -5:00, doors close at 4:30. Adults $8.00 Kids (3-11) $3.00. Info: - (503) 28-TRAIN, www.columbiagorgemodelrailroadclub.com/show email info@columbiagorgemodelrailroadclub.com

Nov 25 (Sat), Camrose, AB
Camrose Model Train Swap Meet, 9 AM - 2 PM; Camrose United Church, 4829-50th Street. Free admission to the public. The Model Train Vendor aspect of the event will have 32, approximately 30" x 8' tables, available for vendors, who wish to participate. Per Table price is $15. Info:- Diesel Horse Hobbies, cabooseman@hotmail.com

Nov 25-26, Central Point, OR
40th Annual Rogue Valley Railroad Show, Jackson County EXPO, 1 Peninger Road, Central Point, OR. Saturday 10 AM - 5 PM, Sunday 10 AM - 4 PM. Admission: Adults $5, Ages 6-12 $1, 5 and under FREE with paid adult. Free parking. Model railroad displays, historic railroad artifacts, swap meet, door prizes, and more. Proceeds benefit Medford Railroad Park. Info:- Bruce Kelly at 541-613-1638, roguevalleyrailroadshow@gmail.com

Nov 25-26, Dec 2-3, Adair Village, OR
Corvallis Society of Model Engineers Open House. 7155 NE Vandenberg Ave. Sat & Sun: 10 am - 4 pm. Cost $3; Ages 6-11: $1; 5 and under: free. Info:- www.csme1959.org

Dec 2 (Sat), Rickreall, OR
WVMRC annual Railroad Show and Swap Meet: Polk County Fairgrounds, 520 S. Pacific Hwy. West (Hwy 22 and Hwy 99W 10 miles west of Salem).9:30 AM-2:30 PM. Over 100 tables, all scales of trains. Admission: Adults $5, children under 12-free, 8 ft. tables $30 each. Info:- Judy MacInnes, 503-581-6071, macinnej@msn.com, www.wvmrm.webs.com

Dec 22 - Jan 1, Tacoma, WA
22nd Annual Model Train Festival at The Washington State History Museum, 1911 Pacific Ave. December 21, 2015 thru 1 January 2016, 10 AM to 5 PM (Closed Christmas Eve and Christmas Day) Included with museum admission (www.washingtonhistory.org) While Santa's elves produce a lot of train sets each holiday season, they can't hold a candle to the quality and scale of the ones on display each year at the Washington State History Museum's Model Train Festival. The event showcases model train displays designed and assembled by model train enthusiasts across the state. The displays occupy every floor of the museum and include the largest permanent model train layout in the state. Bring your camera! Santa onsite for free photos from 11am - 3pm on December 21, 22, 23. Info:- Kimberly Wirtz, Marketing & Communications Director, at 253-798-5902 or kimberly.wirtz@wshs.wa.gov.

2018

Jan 13-15, Seattle, WA
44th annual Pacific Science Center show - 200 Second Ave N, Seattle, WA. 10 am - 6 pm. The 4th Division, PNR coordinates the model railroads, historical displays, and related activities for this show. This is an exhibition show. No swap-meet or vendor sales. Child-interest activities and participation opportunities are encouraged. Current fee, parking, and other facility information is at www.pacificsciencecenter.org/plan-your-visit/. Info:- www.4dpnr.com/pacific-science-center-show/

Jan 27-28, Portland, OR
The Great Train Show. Portland Expo Center. 10AM- 4PM Adult Admission is $10.00 on Saturday - Good for BOTH DAYS! $9.00 on Sunday Kids 11 and under are admitted free and do NOT need a ticket. 250+ Tables of Trains for Sale; 50+ Exhibitors from Across the Country; Huge Operating Model Train Displays; Special HO Scale Train Kids can Run!! Amazing 20' x 60' LEGO Train Display!! Riding Train for Kids of All Ages. Info:- www.trainshow.com/portland

Feb 17 (Sat), Portland, OR
SP&S Railway Historical Society Railroad Swap Meet. 9:30 AM to 2:30 PM. This will be held at Warehouse23 at the exQuay, 100 Columbia St, Vancouver, Washington Parking across the street, or on the street. Admission - $5.00, under 12 free. For more information or table rentals, contact: Jerry Pickell - pickell5141@msn.com or try 360-735-0516. Messages will be returned.

Mar 3 (Sat), Elsie, OR
The 14th Annual Pacific Model Loggers' Congress- takes place at the Camp 18 Restaurant and Logging Museum, 42362 Highway 26, Elsie, Oregon. Info:- www.pacificmodelloggerscongress.com

Apr 22 (Sun), Nanaimo, BC
34th Annual Vancouver Island Spring Model Railroad Show. Beban Park Rec Center, 2300 Bowen Rd. Open 10:00 am - 4:00 pm. Operating Model railroad Layouts, Vendors, Swap Tables. Popular Vote Contest. Info:- Ken Rutherford (250) 724-4698 email kj.rutherford@shaw.ca

May 4-6, Burnaby, BC
Railway Modelers Meet of British Columbia (RMMBC) at Simon Fraser University. The emphasis is primarily on "modelling," as the name implies, with many interesting clinics, layout tours, and operating sessions. Full information and registration is at: railwaymodellersmeetofbc.ca/

May 30 - Jun 2, Portland, OR
PNR Regional Convention 2018: Stumptown Express; Red Lion Jantzen Beach Hotel Info:- www.pnr2018.org and www.facebook.com/StumptownExpress/

To add your activities to the 'PNR Train Orders' (regular member email), or this PNR web page, contact the Timetable Editor, Mark Johnson at (780) 436-2480,
President: Jack Hamilton, MMR
Phone: 360-308-9845
email:
Vice President: Shirley Sample
Phone: 509-292-8332
Email:
Secretary: Jerry Enders
Email:
Treasurer: Dave Liesse
Phone: 253-343-3455
email: nmradave@liessefamily.net
Asst. Treasurer (Canada): L. A. (Larry) Sebelley
Phone: 604 858 5717
Email: sebelley@shaw.ca
Asst. Treasurer (US): Edwin Hill
Phone 253-854-3321
Email:
Office Manager: Ed Liesse
Phone: 253-529-7405
Email: EELiesse@aol.com
Immediate Past President: Shirley Sample
Phone: 509-292-8332
Email:
Achievement: Jack Hamilton, MMR
Phone: 360-308-9845
email: gradiver@wavecable.com
Regional AP Information
Ballot, USA: Volunteer wanted
Ballot, Canada: Richard A. Sutcliffe
Phone: 604 467 4301
Email: ras1@uniserve.com
Contest: John DeSteese
Phone: 509-783-4665
email:
Convention:
L. A. (Larry) Sebelley
Phone: 604 858 5717
Email: sebelley@shaw.ca
Education: Alan Ashton
Email:
Phone: 509-368-9675
President's Award: Dave Liesse
Phone: 253-343-3445
email:
Membership: Shirley Sample
Phone: 509-292-8332
Email:
Nomination: Brian Stokes
Phone: 780-904-1168
Email:
PNR Registered Agent: Elaine Crueger
Phone: 541-847-5779
Email:
"SWITCHLIST" Editor: Greg Kujawa
Phone: 406-589-6256

Webmaster: Mark Johnson
Phone: 780-436-2480
email: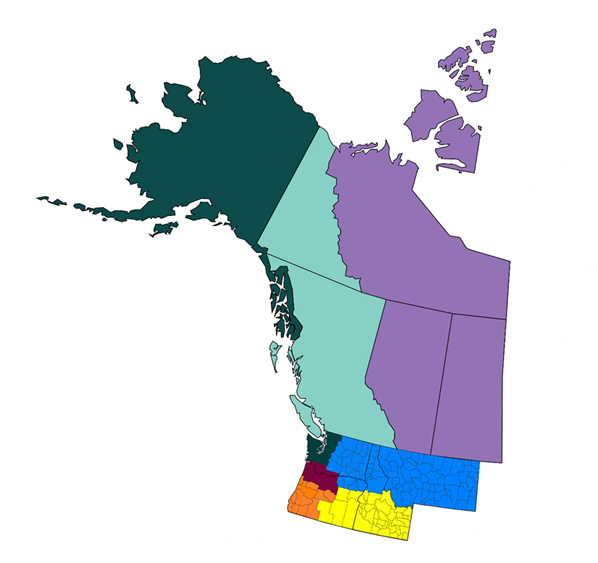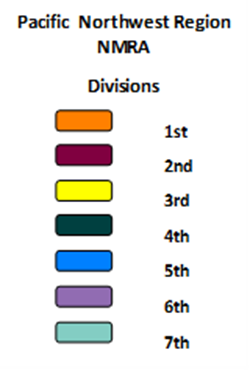 All Division boundaries coincide with those of the Canadian Provinces and Territories or the American States except as described below:
---
Most recent update (except for events): November 17, 2017
This NMRA on the Web page is maintained by:
Mark Johnson, Mark.Johnson@InfoHarvest.ca.
This NMRA on the Web page is hosted by:
InfoHarvest Inc.
Copyright 1995-2017 by the National Model Railroad Association. All Rights Reserved.