Pacific Northwest Region
---
Upcoming Events - PNR Officers - PNR Committee Chairs - PNR Divisions
PNR Documents (Minutes, Policies, etc.) (PDF files) - Regional AP Information
The Switchlist - the newsletter of the PNR
Join/Renew - Membership form - US members (Online/PDF) - NMRA Canada - Canadian Members (Online/PDF)
---
2019 Pacific Northwest Region Convention
Kootenay Express 2019
May 29 - June 2, Cranbrook, BC
www.kootenayexpress2019.ca
2019
Jan 19-21, Seattle, WA
45th annual Pacific Science Center show - 200 Second Ave N, Seattle, WA. 10 am - 6 pm. The 4th Division, PNR coordinates the model railroads, historical displays, and related activities for this show. This is an exhibition show. No swap-meet or vendor sales. Child-interest activities and participation opportunities are encouraged. Current fee, parking, and other facility information is at www.pacificsciencecenter.org/plan-your-visit/. Info:- www.4dpnr.com/pacific-science-center-show/
Feb 16 (Sat), Vancouver, WA
SP&S Railway Historical Society Railroad Swap Meet. 9:30 AM to 2:30 PM. This will be held at Warehouse23, 100 Columbia St, Vancouver, Washington. Parking across the street, or on the street. Admission - $6.00, under 12 free. 8' tables are available for $30. For more information or table rentals, contact: Jim Leonard jpl2004@comcast.net
Feb 23-24, Saskatoon, SK
All Aboard Model Train Show, Western Development Museum 2610 Lorne Ave. Saturday 9-5:00, Sunday 9-4:30. Layouts, Vendors, and Consignment Tables. Info:- www.prairierailworkshop.com/train-show, allaboardtrainshow@gmail.com
Mar 10 (Sun), Nanaimo, BC
34th Annual Vancouver Island Spring Model Railroad Show. Beban Park Rec Center, 2300 Bowen Rd. Open 10:00 am - 4:00 pm. Operating Model railroad Layouts, Vendors, Swap Tables. Popular Vote Contest. Info:- Ken Rutherford (250) 724-4698 email kj.rutherford@shaw.ca
Mar 16 (Sat), Edmonton, AB
MMRF Spring Swap Meet: Central Lion's Senior Citizens Recreation Centre 11113 113 St. 9AM-Noon, Admission $3. Info:- Ric Francoeur, swapmeet@mmrf.ca Ph. 780-458-1032 www.mmrf.ab.ca
Mar 23-24, Moose Jaw, SK
Model Train Show. Sponsored by the Thunder Creek Model Railroad Club. Western Development Museum, 50 Diefenbaker Drive. The museum is open from 9 a.m. to 5 p.m. Admission is $10.00 for adults which then provides full access to the show and all museum exhibits. There is no charge for show participants or vendors who may rent tables for a small fee. Info:- www.tcmrc.org
Mar 24 (Sun), Burnaby, BC
Western Rails 2019. Displays and models of all kinds - Operating model layouts, collectables, photos, time tables, keys, locks, lanterns, buttons, china, telegraph equipment and much much more. Cameron Recreation Complex, 9523 Cameron St. (behind Lougheed Town Centre) 9 am to 4 pm. Admittance: (cash only): Senior (60+) and Youth (6-15) $4.00 Adult (16-59) $8.00 Child (under 6) Free Family $20.00 (Maximum 2 Adults, 3 Youth) Info:- westernrails@wcra.org 604-484-2791.
Apr 13-14, Calgary, AB
SUPERTRAIN 2019, Canada's Largest Model Train Show; 9 AM to 5 PM both days. Genesis Centre, 7555 Falconridge Blvd. NE, Calgary. FREE PARKING at McKnight-Westwinds C-Train Station with free shuttle. Adult - $15, under 16 - free. Over 70,000 sq. ft. of operating layouts, exhibits and displays, railroad artists, hobby shops, model manufacturers, demonstrations, clinics, museums and railroad historical associations, Lego and Thomas Play Area, garden railways, ride-on trains, and much more. Info:- www.supertrain.ca or email to info@supertrain.ca
May 3-5, Burnaby, BC
Railway Modelers Meet of British Columbia (RMMBC) at Simon Fraser University. The emphasis is primarily on "modelling," as the name implies, with many interesting clinics, layout tours, and operating sessions. Full information and registration is at: railwaymodellersmeetofbc.ca/
May 25-26, Carstairs, AB
Model Train and Hobby Extravaganza, Carstairs Curling Club, 350 11th Ave (West of CO-OP). Saturday 10am-5pm, Sunday 10am-4pm; admission $5.00, kids 5 and under free. Info:- Rick, 1mvmrc@gmail.com, 403-556-8121 (home), 403-507-3314 (cell)
May 29 - Jun 2, Cranbrook, BC
The Kootenay Express 2019 Pacific Northwest Region Convention at the Prestige Inn. Clinics, model contest, AP evaluations, prototype and layout tours and much more. For updates see: www.kootenayexpress2019.ca
To add your activities to the 'PNR Train Orders' (regular member email), or this PNR web page, contact the Timetable Editor, Mark Johnson at (780) 436-2480,
President: Kurt Laidlaw
Phone: 253-495-8351
email:
Vice President: Bob Parrish MMR
Phone: 208-866-4601
Email:
Secretary: Jerry Enders
Email:
Treasurer: Dave Liesse
Phone: 253-343-3455
email: nmradave@liessefamily.net
Asst. Treasurer (Canada): L. A. (Larry) Sebelley
Phone: 604 858 5717
Email: sebelley@shaw.ca
Asst. Treasurer (US):

Office Manager: Ed Liesse
Phone: 253-529-7405
Email: EELiesse@aol.com
Immediate Past President: Jack Hamilton MMR
Phone: 509-292-8332 Email: gradiver@wavecable.com
Email:
Achievement: Jack Hamilton, MMR
Phone: 360-308-9845
email: gradiver@wavecable.com Regional AP Information
Ballot, USA: Volunteer wanted
Ballot, Canada: Richard A. Sutcliffe
Phone: 604 467 4301
Email: ras1@uniserve.com
Contest: John DeSteese
Phone: 509-783-4665
email:
Convention:
L. A. (Larry) Sebelley
Phone: 604 858 5717
Email: sebelley@shaw.ca
Education: Volunteer wanted

President's Award: Dave Liesse
Phone: 253-343-3445
email:
Membership: Shirley Sample
Phone: 509-292-8332
Email:
Nominations: Brian Stokes
Phone: 780-904-1168
Email:
PNR Registered Agent: Elaine Crueger
Phone: 541-847-5779
Email:
"SWITCHLIST" Editor: Greg Kujawa
Phone: 406-589-6256

Webmaster: Mark Johnson
Phone: 780-436-2480
email: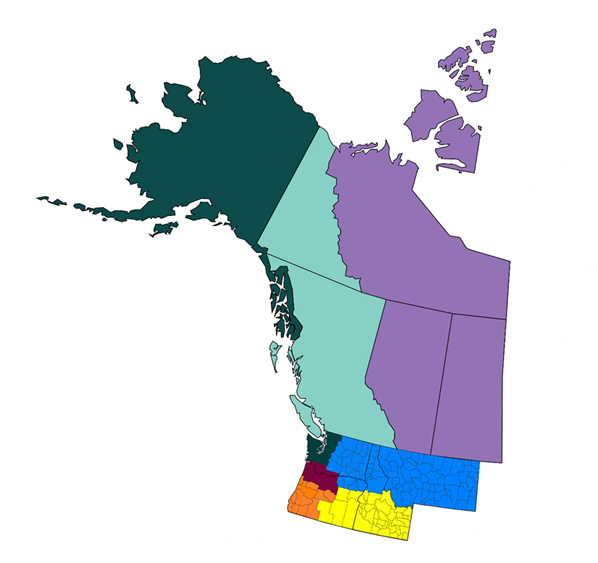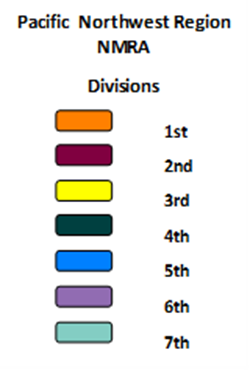 All Division boundaries coincide with those of the Canadian Provinces and Territories or the American States except as described below:
---
Most recent update (except for events): September 2, 2018
This NMRA on the Web page is maintained by:
Mark Johnson, Mark.Johnson@InfoHarvest.ca.
This NMRA on the Web page is hosted by:
InfoHarvest Inc.
Copyright 1995-2018 by the National Model Railroad Association. All Rights Reserved.