Pacific Northwest Region
---
Upcoming Events - PNR Officers - PNR Committee Chairs - PNR Divisions
PNR Documents (Minutes, Policies, etc.) (PDF files) - Regional AP Information
The Switchlist - the newsletter of the PNR
Join/Renew - Membership form - US members (Online/PDF) - NMRA Canada - Canadian Members (Online/PDF)
---
2020 PNR Regional Convention
Make Tracks to Eugene
April 21-24, 2020
Valley River Inn
Eugene, Oregon
maketrackstoeugene.com


2020

Feb 22 (Sat), Portland, OR
X0222x 2nd Division Meet. Garden Home Recreation Center, 7475 SW Oleson Rd Info:- www.2dpnr.org

Feb 22-23, Saskatoon, SK
All Aboard Model Train Show, Western Development Museum 2610 Lorne Ave. Saturday 9-5:00, Sunday 9-4:30. Layouts and Vendor Tables. Info:- www.prairierailworkshop.com/train-show, allaboardtrainshow@gmail.com

Feb 22-23, Monroe, WA
United NorthWest Model railroad Club and Snohomish County 4-H Foundation Present: 29th Annual Washington State Model Railroad Show and Marketplace Evergreen State Fairgrounds, Monroe WA Saturday 10am - 5pm, Sunday 10am - 4pm Operating Model Railroads, Clinics, Demonstrations, Swap Meet tables, Food vendors, and more! Proceeds benefit Snohomish County 4-H Foundation www.facebook.com/unwclub www.unwclub.com/unwshow.html

Mar 7-8, Spokane, WA
River City Modelers open house, 1130 E. Sprague Ave., Spokane, WA 99202. Visit the River City Western HO scale model train layout. The 45 x 40 ft. two-level layout is a work in progress. Much of the scenery is completed, track work is mainly done and details are being worked on. There are approximately 19 scale miles of main line track. Open from 4 to 8 PM on Saturday and Noon to 4 PM on Sunday. Contact 509-535-3462 for more information.

Mar 8 (Sun), Spokane, WA
The SPOKANE TRAIN SHOW - Sponsored by the River City Modelers, 9:30 AM until 3:30 PM at the SPOKANE County Fair & Expo Center, Ag A, B, & C Buildings, 404 N. Havana St. $6.00 ADMISSION- 12 & UNDER FREE. Over 200 tables of railroad related items for sale - model & toy trains, photographs, books, toy autos & trucks, bridges & buildings. Train memorabilia - old lanterns. signs, china, linen, switch locks & keys & more. There will be several operating train layouts in N, HO, S, and G Scales. There will be a LEGO train layout, very large Free-MO HO layout and Operation Lifesaver will be there too. Back again at this show will be the WTrak wooden layout for kids to play with. Free parking! FOR TABLE RENTAL OR GENERAL INFORMATION - CONTACT: SHIRLEY SAMPLE, P.O. Box 3065, Spokane, WA 99220; call 509-991-2317, 509-292-8332 OR EMAIL: shirley@busnws.com

Mar 13-14, Calgary, AB
Railroad Prototype Modellers Meet, St. Andrews Presbyterian Church, 703 Heritage Drive SW. Friday 7pm - 9 pm - Slide Night, with an emphasis on subjects you can model. Bring some slides or digital images to show; Saturday 10am - 4pm - Show and Tell to share modelling ideas, four clinics, draw tickets for displaying your models. Door Prizes! Entry for all sessions is $10 Info:- Dave Audley, 403-275-1869 daudley@telusplanet.net

Mar 14 (Sat), Portland, OR
WIllamette Model Railroad Club Swap Meet 9:30 am to 3 pm at the W.D. Jackson Armory 6255 NE Cornfoot Rd. Portland, OR 97218. Over 115 tables of Model Railroad equipment in all Scales, Railroad Memorabilia, Books, Photos and More. Admission $5.00, under 12 free. Free parking. Info: Brigg Franklin wmrcswapmeet@gmail.com (360) 241-5908.

Mar 15 (Sun), Calgary, AB
CMRS Spring Mini-meet follows the CMT Flea Market at 11:00 at the Glenmore Inn with several clinics lined up, along with Show and Tell. www.calgarymodelrailway.ca/mini-meets.html

Mar 15 (Sun), Calgary, AB
CMT Annual Flea Market, Glenmore Inn, 2720 Glenmore Trail SE (corner of Glenmore Trail & Odgen Road, SE). The Flea Market runs from 8:30 to 10:30. Time to start putting aside those items you no longer need so that you can buy more stuff that you do need! Tables are $20 each, half tables can be booked for $10. To book a table contact Brookes Harrow at bharrow@nucleus.com or 403-201-4937.

Mar 21 (Sat), Kelso, WA
LK&R Model Railroad Club 2 nd annual Train Show and Swap Meet. Located PLACE - Three Rivers Mall in Kelso exit 39 on I-5. - Turn left to Allen Street and turn left on Three Rivers Drive. Go to the southwest corner of the mall. - $5.00 per person. Children under 12 year free with accompanying paid adult. - There will be several layouts and 200 tables. - Door prizes every half hour. Food Truck. - Visit the Club house for more layouts FREE – For tables, contact Rich Easley at kmann_98632@yahoo.com, or call Rich at 360-431-5790, or write to LK&R MRC, 351 Three Rivers Dr. Ste. 190, Kelso, WA, 98626 For more information see our web site at: lkrtrains.yolasite.com/events---past-and-future.php

Mar 21 (Sat), Boise, ID
3rd Division NMRA Spring Meet, Shepherd of the Valley Lutheran Church, 3100 S. Five Mile Rd., Boise, ID 83709 (Victory and Five Mile) Registration - 8:30 amInfo:- Chris Mesa cmesa57@gmail.com

Mar 28-29, Moose Jaw, SK
Model Train Show. Sponsored by the Thunder Creek Model Railroad Club. Western Development Museum, 50 Diefenbaker Drive. The museum is open from 9 a.m. to 5 p.m. Admission is $10.00 for adults which then provides full access to the show and all museum exhibits. There is no charge for show participants or vendors who may rent tables for a small fee. Info:- www.tcmrc.org

Apr 4-5, Prince Albert, SK
RiverXingNorth 2020 - Prince Albert Model Train & Hobby Show at the Prince Albert Golf & Curling Club. 900-22nd St E Saturday 9-5; Sunday 10-5. info:- riverxingnorth.webs.com/

Apr 5 (Sun), Edmonton, AB
MMRF Spring Swap Meet: Central Lion's Senior Citizens Recreation Centre 11113 113 St. 10AM-2PM, Admission $3. Info:- Ric Francoeur, swapmeet@mmrf.ca Ph. 780-458-1032 www.mmrf.ab.ca

Apr 18-19, Calgary, AB
SUPERTRAIN 2020, Canada's Largest Model Train Show; 9 AM to 5 PM both days. Genesis Centre, 7555 Falconridge Blvd. NE, Calgary. FREE PARKING at McKnight-Westwinds C-Train Station with free shuttle. Adult - $15, under 16 - free. Over 70,000 sq. ft. of operating layouts, exhibits and displays, railroad artists, hobby shops, model manufacturers, demonstrations, clinics, museums and railroad historical associations, Lego and Thomas Play Area, garden railways, ride-on trains, and much more. Info:- www.supertrain.ca or email to info@supertrain.ca

Apr 21-24, Eugene, OR
First Division will host the NMRA Pacific Northwest Region Annual Convention at the Valley River Inn. Info:- pnr.nmra.org/1div/Eugene2020/home.htm

Apr 25-26, Eugene, OR
31St Annual Willamette Cascade Model Railroad Club Swap Meet & Train Show, Lane Events Center at 796W. 13th Ave. One of the largest swap meets on the West Coast featuring 22,500 square feet of trains in all scales, books, memorabilia, and historical societies in attendance. Hourly door prizes for the public, Operation Lifesaver Trailer with educational safety around railroads for pedestrians and vehicles. Vendors from 9 different states and over 250 tables of merchandise for sale. Early bird special (Sat. only) get in at 9:00 a.m. for $10 per person, regular admission is $6.00 per person adult through 12 years of age, 11 years to 6 years old $1.00 per person, kids 5 years and younger are free if accompanied by an adult. Admission is good for both days. For more information contact 541-954-4917 or email at ttandt@ram-mail.com Vendor Registrations forms are available on our website at www.wcmrrc.org. or follow us on Facebook.com/wcmrrc.

May 2-3, Regina, SK
Regina Railfest 2020, Over 25,000 sq. ft. of model railroad layouts, displays, exhibits, and vendors!. Caledonian Curling Club, 2225 Sandra Schmirler Way,. Information can be obtained by contacting Ron Coburn at (306) 545-4883 or rdcoburn@accesscomm.ca, or visit reginarailfest.com/railfest-2020

May 2 (Sat), Portland, OR
Portland's 3rd Annual Railroad Prototype Modelers Meet. Portland Airport Shilo Inn, 11707 NE Airport Way, Portland, OR 97220 9AM to 5PM We encourage railroad modelers (model railroaders) to bring their creations (completed or in progress) to share with others. This is intended to be a get together to bring modelers together, share & discuss techniques, talk prototypes and inspire others with their models. We will also be having CLINICS throughout the day and a LARGE RAFFLE! Info:- www.brpmm.com

May 15-17, Camrose, AB
Battle River Rails, 6th Division, Pacific Northwest Region, National Model Railroad Association convention. Host hotel is Le Chateau Hotel, 3911-48 Ave., Camrose. Le Chateau is a newly renovated hotel that is close to Evraz Camrose Works for the prototype tour and Camrose Railway Station. Besides the Evraz tour, four layout tours have been arranged and clinics are planned. Registration: $60 (early bird) before March 15, 2020, $70 after March 15. Barbecue May 16 is $15, banquet May 17, $25. Deadline for registration is May 1, 2020. More information will be posted as it becomes available.

May 16 (Sat), TBD, OR
2nd Division Annual Meeting. Info:- www.2dpnr.org

May 22-24, Burnaby, BC
Railway Modelers Meet of British Columbia (RMMBC) at Simon Fraser University **New Dates**. The emphasis is primarily on "modelling," as the name implies, with many interesting clinics, layout tours, and operating sessions. Full information and registration is at: railwaymodellersmeetofbc.ca/

May 23-24, Carstairs, AB
Model Train and Hobby Extravaganza, Carstairs Curling Club, 350 11th Ave (West of CO-OP). Saturday 10am-5pm, Sunday 10am-4pm; admission $5.00, kids 5 and under free. Info:- Rick, 1mvmrc@gmail.com, 403-556-8121 (home), 403-507-3314 (cell)

To add your activities to the 'PNR Train Orders' (regular member email), or this PNR web page, contact the Timetable Editor, Mark Johnson at (780) 436-2480,
President: Kurt Laidlaw
Phone: 253-495-8351
email:
Vice President: Bob Parrish MMR
Phone: 208-866-4601
Email:
Secretary: Jerry Enders
Email:
Treasurer: Aaron Gibbens
Phone: 541-501-4401
email: PNR-Treas@outlook.com
Asst. Treasurer (Canada): L. A. (Larry) Sebelley
Phone: 604 858 5717
Email: sebelley@shaw.ca
Asst. Treasurer (US):

Office Manager: Ed Liesse
Phone: 253-529-7405
Email: EELiesse@aol.com
Immediate Past President: Jack Hamilton MMR
Phone: 509-292-8332
Email: gradiver@wavecable.com

Achievement: Jack Hamilton, MMR
Phone: 360-308-9845
email: gradiver@wavecable.com Regional AP Information
Ballot, USA: Warren Kerr
Phone: 253-906-4765
email:
Ballot, Canada: Richard A. Sutcliffe
Phone: 604 467 4301
Email: ras1@uniserve.com
Contest: Christopher Jones
Phone: 541-824-0154
email: lllandcij@aol.com
Convention:
L. A. (Larry) Sebelley
Phone: 604 858 5717
Email: sebelley@shaw.ca
Education: Volunteer wanted

President's Award: Dave Liesse
Phone: 253-343-3445
email:
Membership: Bob Parrish MMR
Phone: 208-866-4601
Email:
Nominations: Shirley Sample
Phone: 509-292-8332
Email:
PNR Registered Agent: Elaine Crueger
Phone: 541-847-5779
Email:
"SWITCHLIST" Editor: Greg Kujawa
Phone: 406-589-6256

Webmaster: Mark Johnson
Phone: 780-436-2480
email: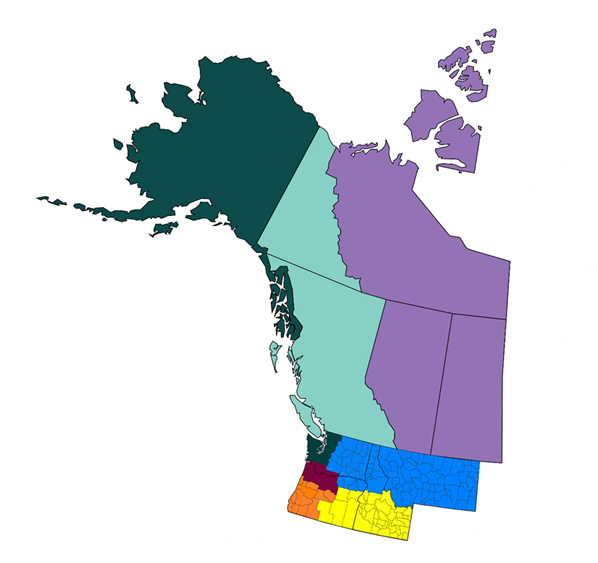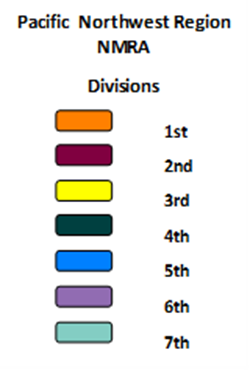 All Division boundaries coincide with those of the Canadian Provinces and Territories or the American States except as described below:
---
Most recent update (except for events): February 15, 2020
This NMRA on the Web page is maintained by:
Mark Johnson, Mark.Johnson@InfoHarvest.ca.
This NMRA on the Web page is hosted by:
InfoHarvest Inc.
Copyright 1995-2020 by the National Model Railroad Association. All Rights Reserved.