Pacific Northwest Region
---
Upcoming Events - PNR Officers - PNR Committee Chairs - PNR Divisions
PNR Documents (Minutes, Policies, etc.) (PDF files) - Regional AP Information
The Switchlist - the newsletter of the PNR
Join/Renew - Membership form - US members (Online/PDF) - NMRA Canada - Canadian Members (Online/PDF)
---
2019 Pacific Northwest Region Convention
Kootenay Express 2019
May 29 - June 2, Cranbrook, BC
www.kootenayexpress2019.ca
2019
Mar 23 (Sat), Kelso, WA
Longview, Kelso & Rainier Model Railroad Club Spring Swap Meet & Train Show, Three Rivers Shopping Mall, Kelso, Washington, 10:00 AM to 3:00 PM, Admission $5, Children under 12 free with Paid Adult, Free Parking! Door Prizes Every 1/2-Hour, 150 Tables for Vendors, Train Layouts, Circus Model Builder Displays. Vendor Info: $20 for 8' table, bring your own cover, setup 6:00-9:00 PM Friday & 7:30-10:00 AM Saturday. For more info, visit lkrtrains.yolasite.com or contact Dick Gemeinhardt at 360-673-2277 or rwgrr@juno.com.
Mar 23-24, Moose Jaw, SK
Model Train Show. Sponsored by the Thunder Creek Model Railroad Club. Western Development Museum, 50 Diefenbaker Drive. The museum is open from 9 a.m. to 5 p.m. Admission is $10.00 for adults which then provides full access to the show and all museum exhibits. There is no charge for show participants or vendors who may rent tables for a small fee. Info:- www.tcmrc.org
Mar 23 (Sat), Boise, ID
3rd Division NMRA Spring Meet, Shepherd of the Valley Lutheran Church, 3100 S. Five Mile Rd., Boise, ID 83709 (Victory and Five Mile) Registration - 8:00 am, Meet - 9:00 am Coffee - Donuts - Conversation - Clinics - Favorite Model Contests NMRA Achievement Award judging - Displays - Silent Auction - Layout Tours Info:-pnr.nmra.org/3div/default.htm or Chris Mesa cmesa57@gmail.com
Mar 24 (Sun), Lewiston, ID
8th Annual Lewis-Clark Train Club and Collectables Swap Meet, 9:30 AM to 4:00 PM, Nez Perce County Fairgrounds, 1229 Burell Ave. Admission $5 and children under 12 free with an adult. There will be vendors from around the northwest with displays, railroad collectables and layouts. Info:- Dan Wise, wrails@cableone.net, 208-816-0845 (cell) or Mike McGee, 208-816-6072; www.lewis-clarktrainclub.com
Mar 24 (Sun), Burnaby, BC
Western Rails 2019. Displays and models of all kinds - Operating model layouts, collectables, photos, time tables, keys, locks, lanterns, buttons, china, telegraph equipment and much much more. Cameron Recreation Complex, 9523 Cameron St. (behind Lougheed Town Centre) 9 am to 4 pm. Admittance: (cash only): Senior (60+) and Youth (6-15) $4.00 Adult (16-59) $8.00 Child (under 6) Free Family $20.00 (Maximum 2 Adults, 3 Youth) Info:- westernrails@wcra.org 604-484-2791.
Apr 13-14, Calgary, AB
SUPERTRAIN 2019, Canada's Largest Model Train Show; 9 AM to 5 PM both days. Genesis Centre, 7555 Falconridge Blvd. NE, Calgary. FREE PARKING at McKnight-Westwinds C-Train Station with free shuttle. Adult - $15, under 16 - free. Over 70,000 sq. ft. of operating layouts, exhibits and displays, railroad artists, hobby shops, model manufacturers, demonstrations, clinics, museums and railroad historical associations, Lego and Thomas Play Area, garden railways, ride-on trains, and much more. Info:- www.supertrain.ca or email to info@supertrain.ca
Apr 13-14, Eugene, OR
31St Annual Willamette Cascade Model Railroad Club Swap Meet & Train Show, Lane Events Center at 796W. 13th Ave. One of the largest swap meets on the West Coast featuring 22,500 square feet of trains in all scales, books, memorabilia, and historical societies in attendance. Hourly door prizes for the public, Operation Lifesaver Trailer with educational safety around railroads for pedestrians and vehicles. Vendors from 9 different states and over 250 tables of merchandise for sale. Early bird special (Sat. only) get in at 9:00 a.m. for $10 per person, regular admission is $6.00 per person adult through 12 years of age, 11 years to 6 years old $1.00 per person, kids 5 years and younger are free if accompanied by an adult. Admission is good for both days. For more information contact 541-954-4917 or email at ttandt@ram-mail.com Vendor Registrations forms are available on our website at www.wcmrrc.org. or follow us on Facebook.com/wcmrrc.
Apr 27-28, Prince Albert, SK
2019 Prince Albert Model Train & Hobby Show at the Prince Albert Golf & Curling Club. 900-22nd St E Saturday 9-5; Sunday 10-5. info:- riverxingnorth.webs.com/
Apr 27 (Sat), Twin Falls, ID
3rd. Division Mini-Meet in Twin Falls-Jerome, noon at Denny's Restaurant. 291 Pole Line Road E. Twin Falls 83301 Info-: jerryrthomas.jt@gmail.com or 208 830 6364
May 3-5, Burnaby, BC
Railway Modelers Meet of British Columbia (RMMBC) at Simon Fraser University. The emphasis is primarily on "modelling," as the name implies, with many interesting clinics, layout tours, and operating sessions. Full information and registration is at: railwaymodellersmeetofbc.ca/
May 4 (Sat), Myrtle Point, OR
Spring 2019 Mini-Meet Myrtle Point on May 4 at the Coos County Fairgrounds. Doors open at 9am with coffee and donuts provided, and the meet begins at 10am. We will discuss the 2020 PNR Convention, and a tree building make-and-take clinic will be provided by Coastmans Scenic Products. Local layouts will be available for viewing. A model contest will be held, and members may bring model railroad items for salem (bring tables for sales). Lunch items will be available for purchase at the mini-meet, and a First Division Board Meeting, which is open to all members, will be held during lunch. Contact Christopher Jones (LLLandCIJ@aol.com) with any questions. Info:- pnr.nmra.org/1div/
May 4-5, Regina, SK
Regina Railfest Model Railroad Show at the Caledonian Curling Club 2225 Sandra Schmirler Way (near the airport), Regina, SK 25000 square feet of model railroad layouts, displays, exhibits and vendors
May 5 (Sun), Victoria, BC
Victoria Model Railway Show 29th Year. 10 am to 4 pm Juan de Fuca Recreation Centre 1767 Island Highway, Colwood B.C. Contact: Ted Alexis 250-595-4070
May 25-26, Carstairs, AB
Model Train and Hobby Extravaganza, Carstairs Curling Club, 350 11th Ave (West of CO-OP). Saturday 10am-5pm, Sunday 10am-4pm; admission $5.00, kids 5 and under free. Info:- Rick, 1mvmrc@gmail.com, 403-556-8121 (home), 403-507-3314 (cell)
May 29 - Jun 2, Cranbrook, BC
The Kootenay Express 2019 Pacific Northwest Region Convention at the Prestige Inn. Clinics, model contest, AP evaluations, prototype and layout tours and much more. For updates see: www.kootenayexpress2019.ca
Jul 7-13, Salt Lake City, UT
SLC 2019 NMRA NATIONAL CONVENTION Celebrating the 150th Anniversary of the Golden Spike Little America Hotel www.nmra2019slc.org
Jul 12-14, Salt Lake City, UT
2019 NMRA NATIONAL TRAIN SHOW Mountain America Expo Center Sandy (Salt Lake City) UT www.nationaltrainshow.org
Sep 28 (Sat), Battle Ground, WA
THE 46th GREAT TRAIN SWAP MEET by the Southwest Washington Model Railroaders 9:30 AM until 2:30 PM at Battle Ground High School Gymnasium, 300 W Main Street, Battle Ground, WA 98604. Over 120 tables of railroad related items for sale model & toy trains, photo's, books, toy autos & trucks, bridges & buildings, Train memorabilia, & much more. Operating train layouts in HO, O, and Z Scales plus test tracks for N, HO & HOn3. Admission $10 Beat the Crowd (9am), $5 Adults, $3 Students, Children under 6 years FREE with adult. Free Parking. For more information and table rentals contact: Larry Sprenkel, 14210 NE 26th Avenue, Vancouver, WA 98686 cell (360) 619-8899, Email: Larry.sprenkel@gmail.com. Battle Ground High School gym 330 Main St., Battle Ground WA From I-5 exit 11, take WA-502 East 8 miles direct to location Railroad models and materials in all scales and RR memorabilia Customer parking: North of gym off Parkway Ave. Vendor info: Larry Sprenkel 360-619-8899 larry.sprenkel@gmail.com Six-foot tables @ $20.00 Sponsored by Southwest Washington Model Railroaders of Vancouver, Washington.
Oct 12-13, Spokane, WA
River City Modelers open house, 1130 E. Sprague Ave., Spokane, WA 99202. Visit the River City Western HO scale model train layout. The 45 x 40 ft. two-level layout is a work in progress. Much of the scenery is completed, track work is mainly done and details are being worked on. There are approximately 19 scale miles of main line track. Open from 4 to 8 PM on Saturday and Noon to 4 PM on Sunday. Contact 509-535-3462 for more information.
Oct 13 (Sun), Spokane, WA
The Spokane Train show by the River City Modelers. 9:30 AM until 3:30 PM at the Spokane Fair & Expo Center, Bldg. A, B & C, 404 N. Havana St. Over 200 tables of railroad related items for sale - model & toy trains, photos, books, toy autos & trucks, bridges & buildings, Train memorabilia, old lanterns, signs, china, linens, switch locks & keys & much more. Operating train layouts in N, HO, S, O, and G Scales plus a very large Free-mo layout. Operation lifesaver & a LEGO layout will be there too. Admission $6.00, 12 & under free. For more information and table rentals contact: Shirley Sample, P.O. Box 3065, Spokane, WA 99220 or cell 509-991-2317, home 509-292-8332. Email: shirley@busnws.com.
2020
Apr 20-24, Eugene, OR
First Division will host the NMRA Pacific Northwest Region Annual Convention at the Valley River Inn. More information later.
To add your activities to the 'PNR Train Orders' (regular member email), or this PNR web page, contact the Timetable Editor, Mark Johnson at (780) 436-2480,
President: Kurt Laidlaw
Phone: 253-495-8351
email:
Vice President: Bob Parrish MMR
Phone: 208-866-4601
Email:
Secretary: Jerry Enders
Email:
Treasurer: Dave Liesse
Phone: 253-343-3455
email: nmradave@liessefamily.net
Asst. Treasurer (Canada): L. A. (Larry) Sebelley
Phone: 604 858 5717
Email: sebelley@shaw.ca
Asst. Treasurer (US):

Office Manager: Ed Liesse
Phone: 253-529-7405
Email: EELiesse@aol.com
Immediate Past President: Jack Hamilton MMR
Phone: 509-292-8332 Email: gradiver@wavecable.com
Email:
Achievement: Jack Hamilton, MMR
Phone: 360-308-9845
email: gradiver@wavecable.com Regional AP Information
Ballot, USA: Volunteer wanted
Ballot, Canada: Richard A. Sutcliffe
Phone: 604 467 4301
Email: ras1@uniserve.com
Contest: John DeSteese
Phone: 509-783-4665
email:
Convention:
L. A. (Larry) Sebelley
Phone: 604 858 5717
Email: sebelley@shaw.ca
Education: Volunteer wanted

President's Award: Dave Liesse
Phone: 253-343-3445
email:
Membership: Shirley Sample
Phone: 509-292-8332
Email:
Nominations: Brian Stokes
Phone: 780-904-1168
Email:
PNR Registered Agent: Elaine Crueger
Phone: 541-847-5779
Email:
"SWITCHLIST" Editor: Greg Kujawa
Phone: 406-589-6256

Webmaster: Mark Johnson
Phone: 780-436-2480
email: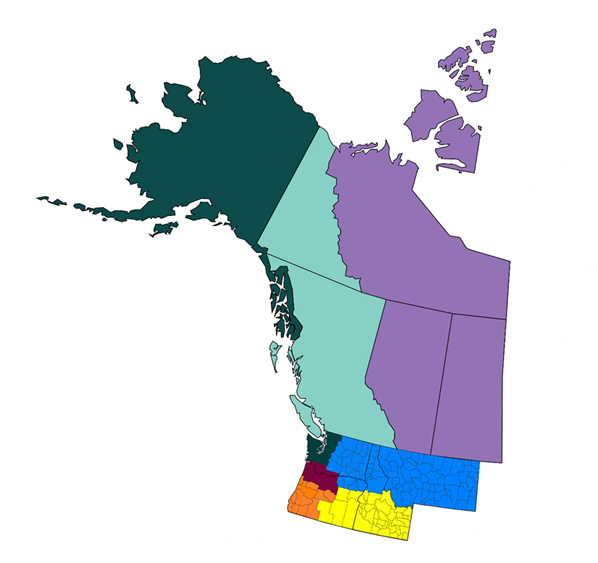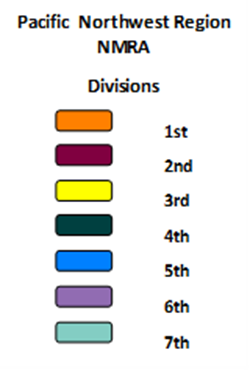 All Division boundaries coincide with those of the Canadian Provinces and Territories or the American States except as described below:
---
Most recent update (except for events): January 4, 2019
This NMRA on the Web page is maintained by:
Mark Johnson, Mark.Johnson@InfoHarvest.ca.
This NMRA on the Web page is hosted by:
InfoHarvest Inc.
Copyright 1995-2019 by the National Model Railroad Association. All Rights Reserved.