Pacific Northwest Region
---
Upcoming Events - PNR Officers - PNR Committee Chairs - PNR Divisions
PNR Documents (Minutes, Policies, etc.) (PDF files) - Regional AP Information
The Switchlist - the newsletter of the PNR
Join/Renew - Membership form - US members (Online/PDF) - NMRA Canada - Canadian Members (Online/PDF)
---
2020 PNR Regional Convention
2020 PNR Convention Cancelled -A note from the PNR President

Make Tracks to Eugene CANCELLED
maketrackstoeugene.com
Check the websites for individual events to ensure they have not been canceled due to Coronavirus (COVID-19)

2020

May 22-24, Burnaby, BC
CANCELLED Railway Modelers Meet of British Columbia (RMMBC) at Simon Fraser University **New Dates**. The emphasis is primarily on "modelling," as the name implies, with many interesting clinics, layout tours, and operating sessions. Full information and registration is at: railwaymodellersmeetofbc.ca/

May 23-24, Carstairs, AB
CANCELLED Model Train and Hobby Extravaganza, Carstairs Curling Club, 350 11th Ave (West of CO-OP). Saturday 10am-5pm, Sunday 10am-4pm; admission $5.00, kids 5 and under free. Info:- Rick, 1mvmrc@gmail.com, 403-556-8121 (home), 403-507-3314 (cell)

Jun 13 (Sat), Lethbridge, AB
CANCELLED Huge sale of N Scale locomotives, rolling stock, track, switches, buildings and other cool stuff at the Southern Alberta Model Railway Club building in Gyro Park, 15th Street and 10th Avenue A South. Please note that sales will be cash only. Watch the club's website: www.albertasouthernrailway.ca for more info.

Sep 12-13, Sherwood Park, AB
CANCELLED 2020 Greater Edmonton Model Train Show, 10 AM - 5 PM, Millennium Place, 2000 Premier Way in Sherwood Park. Admission $10, $5 for youth 16 and under - children 4 and under FREE Layouts, displays, clinics, dealers and LEGO! Info:- www.mmrf.ab.ca email: trainshow@mmrf.ab.ca

Sep 15-19, Missoula, MT
Northern Pacific Railway Historical Association Annual Convention. Info:- store.nprha.org/convention

Sep 18-23, Nelson, BC
CANCELLED: Joint CPHA-GNRHS convention, and the first-ever national CPHA convention. Watch for more information in future issues of CP TRACKS and on the CPHA website (www.cptracks.ca) . Please remember that you must be a member of either CPHA or GNRHS to attend this event. For more information, contact Scott Calvert, Co-Chair, Nelson 2020.

Nov 6-8, Vancouver, BC
CANCELLED: Vancouver Train Expo 2020 Info:- www.vancouvertrainexpo.ca

To add your activities to the 'PNR Train Orders' (regular member email), or this PNR web page, contact the Timetable Editor, Mark Johnson at
President: Kurt Laidlaw
Phone: 253-495-8351
email:
Vice President: Bob Parrish MMR
Phone: 208-866-4601
Email:
Secretary: Jerry Enders
Email:
Treasurer: Aaron Gibbens
Phone: 541-501-4401
email: PNR-Treas@outlook.com
Asst. Treasurer (Canada): L. A. (Larry) Sebelley
Phone: 604 858 5717
Email: sebelley@shaw.ca
Asst. Treasurer (US):

Office Manager: Ed Liesse
Phone: 253-529-7405
Email: EELiesse@aol.com
Immediate Past President: Jack Hamilton MMR
Phone: 509-292-8332
Email: gradiver@wavecable.com

Achievement: Jack Hamilton, MMR
Phone: 360-308-9845
email: gradiver@wavecable.com Regional AP Information
Ballot, USA: Warren Kerr
Phone: 253-906-4765
email:
Ballot, Canada: Richard A. Sutcliffe
Phone: 604 467 4301
Email: ras1@uniserve.com
Contest: Christopher Jones
Phone: 541-824-0154
email: lllandcij@aol.com
Convention:
L. A. (Larry) Sebelley
Phone: 604 858 5717
Email: sebelley@shaw.ca
Education: Volunteer wanted

President's Award: Dave Liesse
Phone: 253-343-3445
email:
Membership: Bob Parrish MMR
Phone: 208-866-4601
Email:
Nominations: Shirley Sample
Phone: 509-292-8332
Email:
PNR Registered Agent: Elaine Crueger
Phone: 541-847-5779
Email:
"SWITCHLIST" Editor: Greg Kujawa
Phone: 406-589-6256

Webmaster: Mark Johnson
email: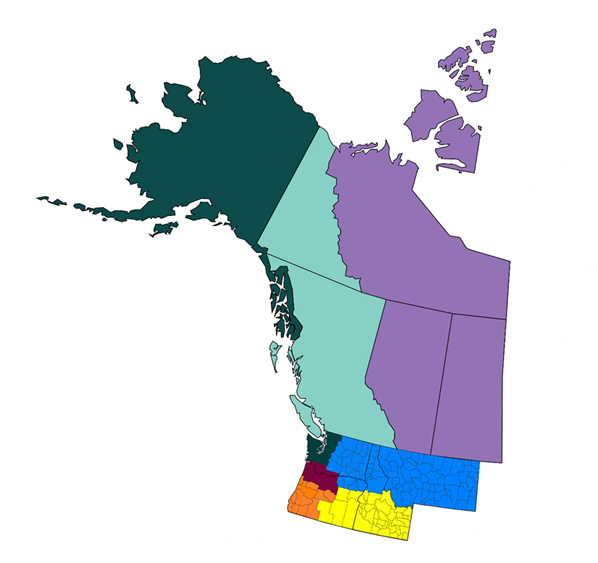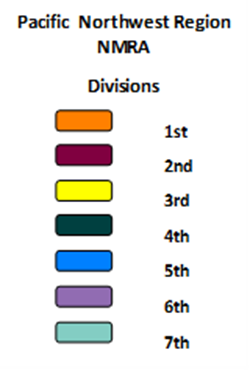 All Division boundaries coincide with those of the Canadian Provinces and Territories or the American States except as described below:
---
Most recent update (except for events): March 2, 2020
This NMRA on the Web page is maintained by:
Mark Johnson, Mark.Johnson@InfoHarvest.ca.
Copyright 1995-2020 by the National Model Railroad Association. All Rights Reserved.