Pacific Northwest Region
---
Upcoming Events - PNR Officers - PNR Committee Chairs - PNR Divisions
PNR Documents (Minutes, Policies, etc.) (PDF files) - Regional AP Information
The Switchlist - the newsletter of the PNR
Join/Renew - Membership form - US members (Online/PDF) - NMRA Canada - Canadian Members (Online/PDF)
---
2017
Sep 2-4, Snoqualmie, WA
Three days of Train Excursions. Trains depart every 2 hours beginning at 11:00 AM from the Snoqualmie Depot at 38625 SE King Street and at 11:30 am from the North Bend Depot at 205 E. McClellan Street. Roundtrip fares: $10 children ages 2-12, $20 adult ages 13-61, and $16 senior ages 62 and up! Info:- www.trainmuseum.org
Sep 9 (Sat), Palmer, AK
The Consolidated South Western RR will hold its annual Open House from 12 noon to 5 pm. The CSWRR is located at 21550 E. Arnold Cir. (Knik River Valley). Admission is free. Info:- Marty Quaas 907-746-6414 or e-mail cswrrceo@mtaonline.net.
Sep 16-17, Sherwood Park, AB
2017 Great Edmonton Model Train Show, 10 AM - 5 PM, Millennium Place, 2000 Premier Way in Sherwood Park. Layouts, displays, clinics, dealers and LEGO! Info:- www.mmrf.ab.ca email: trainshow@mmrf.ab.ca
Sep 16 (Sat), Myrtle Point, OR
The Fall 2017 First Division Mini-Meet at the Coos County Fairgrounds in Myrtle Point, 770 4th St. Doors will open at 9 AM, with the event starting at 10 AM. The fairgrounds' HO scale DCC layout will operate, and other layouts are expected to be open for self-guided tours. Clinicians are still sought. Info:- Christopher Jones at LLLandCIJ@aol.com pnr.nmra.org/1div/
Sep 17 (Sun), Missoula, MT
37th Annual Train Show and Swap Meet, from 10 AM to 4 PM at the Big Sky High School, 3100 South Ave. W. Info:- show@missoulamodelrail.org
Sep 23 (Sat), Boise, ID
The 3rd Division Fall Meet at Shepherd of the Valley Lutheran Church, 3100 S. Five Mile Rd., Boise, ID 83709 (Victory and Five Mile). Registration - 8:00 am, Meet - 9:00 am; Layout tours 1:30pm to 5:00pm. 3rd Division NMRA Fall Meet: Coffee - Donuts - Conversation - Clinics - Favorite Model Contests NMRA Achievement Award judging - Displays - Silent Auction - Layout Tours. Admission $8.00 - $7.00 for NMRA Members. Special Contest: Tool Shed made by Motrak Models Info:- pnr.nmra.org/3div/
Sep 23-24, Calgary, AB
Railway Days at Heritage Park.10:00am-5:00pm. Double-heading of Heritage Park's two steam locomotives. Unveiling and inaugural start up of the recently completed CP Rail Steam Railway Crane, the only working model in Canada! Info:- www.heritagepark.ca/plan-your-visit/event-calendar/railway-days.html
Oct 1 (Sun), Edmonton, AB
EMRA Open House. Visit the largest HO model railroad in Western Canada at the Fort Edmonton freight shed (T6H 4P3) on Sunday, October 1, 2017. 10 am - 4:30 pm. Free admission, donations to the Food Bank appreciated. Info:- www.emra.club
Oct 7 (Sat), Vancouver, WA
44th Great Train Swap Meet, 9:30 AM to 2:30 PM. Event will take place at Battle Ground High School, 330 Main St. Admission: $5.00. Info:- Larry Sprenkel at 360-619-8899, larry.sprenkel@gmail.com
Oct 14 (Sat), Calgary, AB
Boomer Auction - South Bank Short Lines Association presents the 38th Annual Boomer Auction. St Andrews Presbyterian Church, 703 Heritage Dr. SW, Calgary. Doors open at 09:00 for Set-up/Display/Viewing. Bring your Locomotives, Rolling Stock, Buildings, Kits, Tools, Parts, Photographs, Slides, Books and Railroadiana that you want to sell. Magazines and VHS tapes will NOT be sold. Auction starts at 10:30. Note earlier times.. Info:- John Wrinch, (403) 281-5745, jawrinch@shaw.ca
Oct 14-15, Chehalis, WA
LEWIS COUNTY MODEL RAILROAD CLUB TRAIN SHOW AND SWAP MEET at the SWW fair grounds at 2555 North National Av eInfo:- Ted Livermore, 360-985-7788 or tedstrains@lewiscounty.com
Oct 14-15, Spokane, WA
River City Modelers, 1130 E. Sprague Ave., Spokane, WA 99202 will have their HO Scale "River City Western" layout open on Saturday October 14th from 4 - 8 PM; and Sunday, October 15th from Noon to 4 PM. Stop by to see the progress that has been made. More scenery, buildings, and details are being added every week. For information check out the River City Modelers website - www.rivercitymodelers.org, call 509-535-3462 or email RCMinfonow@gmail.com
Oct 15 (Sun), Calgary, AB
CMRS Fall Mini Meet and Annual General Meeting, Glenmore Inn. Clinics, Show & Tell, Info:-www.calgarymodelrailway.ca
Oct 15 (Sun), Spokane, WA
The Fall Spokane Train show sponsored by the River City Modelers will be held on Sunday, October 15th at the Spokane Fair & Expo Center, Bldg. A, B & C. Show hours are from 9:30 AM to 3:30 PM, admission $6.00 for adults, 12 & under free. Close to 200 tables of all things railroad related for sale - model & toy trains, photos, books, toy autos & trucks, bridges & buildings. Train memorabilia - old lanterns, signs, china, linen, switch locks & keys and much more. There will be operating train layouts in N, HO, S, O and G Scales along with a very large Free-Mo setup. Operations Lifesaver will be there too. Free parking, food available. For table rental or general information, please contact: Shirley Sample, P.O. Box 3065, Spokane, WA 99220; call 509-991-2317 or email: Shirley@busnws.com
Oct 28 (Sat), Edmonton, AB
MMRF Fall Swap Meet: Central Lion's Senior Citizens Recreation Centre 11113 113 St. 9AM-Noon, Admission $3, vendor tables $25 Info:- Ric Francoeur, Ph. 780-458-1032 www.mmrf.ab.ca
Nov 11-12, Vancouver, BC
Vancouver Train Expo 2017 at the Pacific National Exhibition Forum, 2901 East Hastings Street. Saturday - 10 am to 6 pm; Sunday - 10 am to 5 pm Adults $10, Seniors (60+) $8, Youth (8 to 18yrs) $5, Children under 8 Free, Family Rate $25, NMRA members $5. Info:- www.vancouvertrainexpo.ca
Nov 25-26, Central Point, OR
40th Annual Rogue Valley Railroad Show, Jackson County EXPO, 1 Peninger Road, Central Point, OR. Saturday 10 AM - 5 PM, Sunday 10 AM - 4 PM. Admission: Adults $5, Ages 6-12 $1, 5 and under FREE with paid adult. Free parking. Model railroad displays, historic railroad artifacts, swap meet, door prizes, and more. Proceeds benefit Medford Railroad Park. Info:- Bruce Kelly at 541-613-1638, roguevalleyrailroadshow@gmail.com
Nov 25-26, Dec 2-3, Adair Village, OR
Corvallis Society of Model Engineers Open House. 7155 NE Vandenberg Ave. Sat & Sun: 10 am - 4 pm. Cost $3; Ages 6-11: $1; 5 and under: free. Info:- www.csme1959.org
Dec 2 (Sat), Rickreall, OR
WVMRC annual Railroad Show and Swap Meet: Polk County Fairgrounds, 520 S. Pacific Hwy. West (Hwy 22 and Hwy 99W 10 miles west of Salem).9:30 AM-2:30 PM. Over 100 tables, all scales of trains. Admission: Adults $5, children under 12-free, 8 ft. tables $30 each. Info:- Judy MacInnes, 503-581-6071, macinnej@msn.com, www.wvmrm.webs.com
2018
May 30 - Jun 3, Portland, OR
PNR Regional Convention at the Red Lion Jantzen Beach.
To add your activities to the 'PNR Train Orders' (regular member email), or this PNR web page, contact the Timetable Editor, Mark Johnson at (780) 436-2480,
President: Jack Hamilton, MMR
Phone: 360-308-9845
email:
Vice President: Shirley Sample
Phone: 509-292-8332
Email:
Secretary: Robert Stafford
Email:
Treasurer: Dave Liesse
Phone: 253-343-3455
email: nmradave@liessefamily.net
Asst. Treasurer (Canada): L. A. (Larry) Sebelley
Phone: 604 858 5717
Email: sebelley@shaw.ca
Asst. Treasurer (US): Volunteer wanted
Office Manager: Ed Liesse
Phone: 253-529-7405
Email: EELiesse@aol.com
Immediate Past President: Shirley Sample
Phone: 509-292-8332
Email:
Achievement: Jack Hamilton, MMR
Phone: 360-308-9845
email: gradiver@wavecable.com
Regional AP Information
Ballot, USA: Volunteer wanted
Ballot, Canada: Richard A. Sutcliffe
Phone: 604 467 4301
Email: ras1@uniserve.com
Contest: John DeSteese
Phone: 509-783-4665
email:
Convention:
L. A. (Larry) Sebelley
Phone: 604 858 5717
Email: sebelley@shaw.ca
Education: Alan Ashton
Email:
Phone: 509-368-9675
President's Award: Dave Liesse
Phone: 253-343-3445
email:
Membership: Shirley Sample
Phone: 509-292-8332
Email:
Nomination: Brian Stokes
Phone: 780-904-1168
Email:
PNR Registered Agent: Volunteer wanted
"SWITCHLIST" Editor: Greg Kujawa
Phone: 406-589-6256

Webmaster: Mark Johnson
Phone: 780-436-2480
email: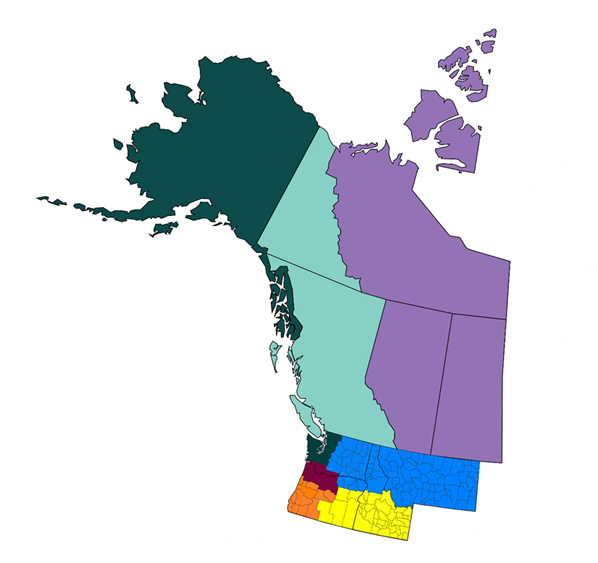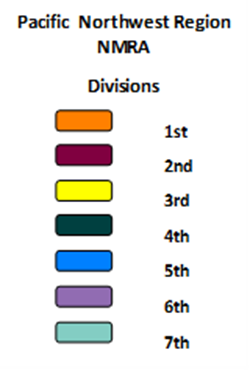 All Division boundaries coincide with those of the Canadian Provinces and Territories or the American States except as described below:
---
Most recent update (except for events): August 6, 2017
This NMRA on the Web page is maintained by:
Mark Johnson, Mark.Johnson@InfoHarvest.ca.
This NMRA on the Web page is hosted by:
InfoHarvest Inc.
Copyright 1995-2017 by the National Model Railroad Association. All Rights Reserved.