Pacific Northwest Region
---
Upcoming Events - PNR Officers - PNR Committee Chairs - PNR Divisions
PNR Documents (Minutes, Policies, etc.) (PDF files) - Regional AP Information
The Switchlist - the newsletter of the PNR
Join/Renew - Membership form - US members (Online/PDF) - NMRA Canada - Canadian Members (Online/PDF)
---
PNR 2018 Regional Convention: Stumptown Express
Portland, Oregon
May 30 - June 2, 2018


2018

Jun 15 (Fri), Edmonton, AB
Model railroaders Meet and Greet BBQ and train watching, 4PM-10PM rain or shineat the Deville/North Cooking Lake Community Hall, located at 21033 Wye Road, North Cooking Lake. Info:- Ed@ 780-886-8116

Jun 16-17, Mossleigh, AB
Train Days at Aspen Crossing - an entire system of G scale model trains by the Rocky Mountain Garden Railroaders. Enjoy 1 hour in length train experience on the full size excursion train that hosted THE POLAR EXPRESS TM! Info:- www.aspencrossing.com, 1-866-440-3500

Jun 17 (Sun), Fort Steele , BC
Father's Day at the Fort Steele Railway! Throughout the day... special displays, BBQ, engine shed tours and entertainment. Steam train rides $2 all weekend long. (Dads ride free on Sunday!) Info:- www.fortsteele.ca

Jun 22-24, Crowsnest Pass, AB
Sixth Division meet - The Crow 2018. Tours, clinics, contests, layout tours. Info:- thecrow2018.ca

Jul 14-15, Ilwaco, WA
Clamshell Railroad Days - For over 40 years (1888 - 1930), the quirky little narrow-gauge railroad, begun as the Ilwaco, Railway and Navigation Company, ran along the Long Beach Peninsula. Now come join the fun as we celebrate Clamshell Railroad Days. The $5.00 fee includes a souvenir pin and Museum entrance for 2 days, free for kids under 12. Info:- columbiapacificheritagemuseum.org/clamshell/

Jul 18-21, Olympia, WA
Union Pacific Historical Society Annual Convention 2018. Info:- www.uphs.org/

Aug 15 - Aug 19, Big Valley, AB
15th Annual Alberta Free-mo. An entire hockey rink filled with a modular layout! Event open to all Free-mo module owners across North America. Set up begins Thursday August 17th ; commence running on Friday and go until Sunday at 4:00PM. Public viewing is 10-4 on each day, and admission is free for viewing! Sponsored by: Calgary Free-mo, a 100% NMRA Group. Info:- www.calgaryfreemo.ca, info@calgaryfreemo.ca

Aug 17-19, Snoqualmie, WA
Snoqualmie Railroad Days 2018: 80 years of Trains, Timber, Traditions, a community festival celebrating our spirit and origins as a railroad and logging town, and the home of the Snoqualmie Indian Tribe. Northwest Railway Museum, 38625 King Street. Info:- www.railroaddays.com

Aug 19 (Sun), Wetaskiwin, AB
Alberta Central RAILWAY DAY. Pancake Breakfast Served from 10 a.m. to 11:30 p.m. with admission ticket Beaver Tails Served from 1 p.m. to 2:30 p.m. Model Train Exhibits and Collectors Show; Exhibits and Telegraph Service Demonstrations; Train Rides, Speeder Rides, Wagon Rides; Spike Pounding Demonstrations; All-Inclusive fare of $8 per person aged 2 and older. Watch for the grand opening of the Grain Elevator Info:- www.abcentralrailway.com 780-352-2257 acrm@xplornet.com

Sep 7-9, Chehalis, WA
SP&S Historical Society Convention Info:- www.spshs.org

Sep 15-19, Bellingham, WA
Great Northern Historical Society Annual Convention Info:- www.gnrhs.org

Sep 15-16, Sherwood Park, AB
2018 Great Edmonton Model Train Show, 10 AM - 5 PM, Millennium Place, 2000 Premier Way in Sherwood Park. Admission $10, $5 for youth 16 and under - children 4 and under FREE Layouts, displays, clinics, dealers and LEGO! Info:- www.mmrf.ab.ca email: trainshow@mmrf.ab.ca

Sep 16 (Sun), Burien, WA
Milwaukee Modeler's Meet. 10:00 - 5:00 Models as well as presentations on model, prototype and historic Milwaukee Road operations. Location: Pacific Northwest Railroad Archive 425 SW 153rd Street, Burien, WA. Info:- www.milwelectric.org/2017-fall-milwaukee-road-meet-september-16-burien-wa/

Sep 22 (Sat), Boise, ID
September Mini Meet September 22, 2018 Idaho Pizza 7100 W. Fairview Ave. Boise Opens 11:30 AM. Info:- jerryrthomas.jt@gmail.com

Sep 22-23, Calgary, AB
Railway Days at Heritage Park.10:00am-5:00pm. Double-heading of Heritage Park's two steam locomotives. Info:- www.heritagepark.ca/plan-your-visit/event-calendar/railway-days.html

Oct 13-14, Chilliwack, BC
Mount Cheam Lions Club Model Railway & Hobby Show, Sat 9am-5pm. Sun 10am-4pm. Heritage Park, 44140 Luckakuck Way, Chilliwack, (Freeway Exit #116) Parking by donation. Info:- Bob Jones Phone: 604-858-7659

Oct 13 (Sat), Calgary, AB
39th Annual Boomer Auction, Sponsored by South Bank Short Lines Association. St Andrews Presbyterian Church, 703 Heritage Dr. SW, Calgary. Setup and viewing 08:30am, dining car opens 09:30 am, auction starts at 10:00am. Info:- John Wrinch, (403) 281-5745, jawrinch@shaw.ca

Oct 14 (Sun), Calgary, AB
CMRS Fall Mini Meet and Annual General Meeting, Glenmore Inn. Clinics, Show & Tell, Info:-www.calgarymodelrailway.ca/mini-meets.html

Oct 20 (Sat), Boise, ID
The 3rd Division Fall Meet at Shepherd of the Valley Lutheran Church, 3100 S. Five Mile Rd., Boise, ID 83709 (Victory and Five Mile). Opens 8:00 AM. Info:- jerryrthomas.jt@gmail.com

Oct 20 (Sat), Edmonton, AB
MMRF Fall Swap Meet: Central Lion's Senior Citizens Recreation Centre 11113 113 St. 9AM-Noon, Admission $3, vendor tables $25 Info:- Ric Francoeur, swapmeet@mmrf.ab.ca www.mmrf.ab.ca

Nov 6-7, Rickreall, OR
Grange Flea Market and PSR Open House 9am-3pm. Hosted by the Polk Station Rail, Model Railroad Club. We are located on the 2nd floor of the Rickreall Grange Hall in Rickreall, Oregon on Hwy 99 with easy access Info:- www.trainweb.org/psr

Nov 10-11, Vancouver, BC
Vancouver Train Expo 2018 at the Pacific National Exhibition Forum, 2901 East Hastings Street. Saturday - 10 am to 6 pm; Sunday - 10 am to 5 pm Adults $12, Seniors (60+) $10, Youth (6 to 15yrs) $6, Children under 6 Free, Family Rate $30, NMRA members $10. Info:- www.vancouvertrainexpo.ca

To add your activities to the 'PNR Train Orders' (regular member email), or this PNR web page, contact the Timetable Editor, Mark Johnson at (780) 436-2480,
President: Jack Hamilton, MMR
Phone: 360-308-9845
email:
Vice President: Shirley Sample
Phone: 509-292-8332
Email:
Secretary: Jerry Enders
Email:
Treasurer: Dave Liesse
Phone: 253-343-3455
email: nmradave@liessefamily.net
Asst. Treasurer (Canada): L. A. (Larry) Sebelley
Phone: 604 858 5717
Email: sebelley@shaw.ca
Asst. Treasurer (US):

Office Manager: Ed Liesse
Phone: 253-529-7405
Email: EELiesse@aol.com
Immediate Past President: Shirley Sample
Phone: 509-292-8332
Email:
Achievement: Jack Hamilton, MMR
Phone: 360-308-9845
email: gradiver@wavecable.com
Regional AP Information
Ballot, USA: Volunteer wanted
Ballot, Canada: Richard A. Sutcliffe
Phone: 604 467 4301
Email: ras1@uniserve.com
Contest: John DeSteese
Phone: 509-783-4665
email:
Convention:
L. A. (Larry) Sebelley
Phone: 604 858 5717
Email: sebelley@shaw.ca
Education: Volunteer wanted

President's Award: Dave Liesse
Phone: 253-343-3445
email:
Membership: Shirley Sample
Phone: 509-292-8332
Email:
Nominations: Brian Stokes
Phone: 780-904-1168
Email:
PNR Registered Agent: Elaine Crueger
Phone: 541-847-5779
Email:
"SWITCHLIST" Editor: Greg Kujawa
Phone: 406-589-6256

Webmaster: Mark Johnson
Phone: 780-436-2480
email: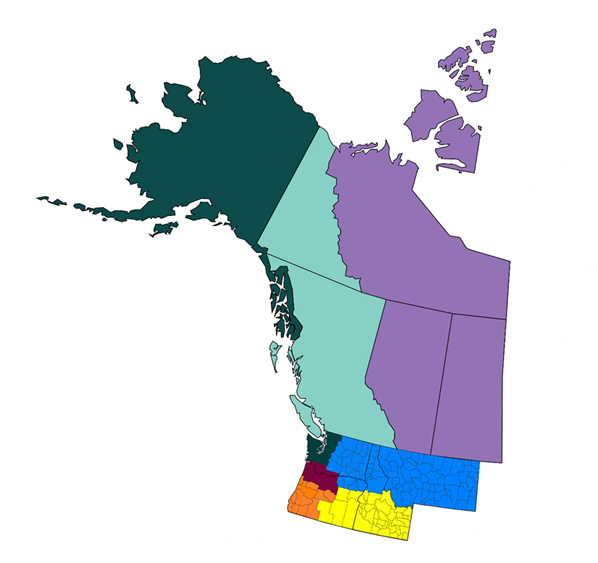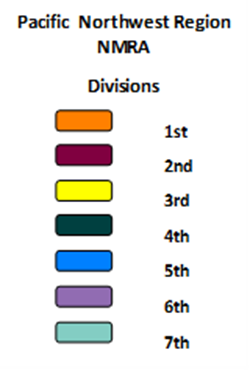 All Division boundaries coincide with those of the Canadian Provinces and Territories or the American States except as described below:
---
Most recent update (except for events): March 12, 2018
This NMRA on the Web page is maintained by:
Mark Johnson, Mark.Johnson@InfoHarvest.ca.
This NMRA on the Web page is hosted by:
InfoHarvest Inc.
Copyright 1995-2018 by the National Model Railroad Association. All Rights Reserved.