Pacific Northwest Region
---
Upcoming Events - PNR Officers - PNR Committee Chairs - PNR Divisions
PNR Documents (Minutes, Policies, etc.) (PDF files) - Regional AP Information
The Switchlist - the newsletter of the PNR
Join/Renew - Membership form - US members (Online/PDF) - NMRA Canada - Canadian Members (Online/PDF)
---
2018
Sep 22 (Sat), Boise, ID
September Mini Meet September 22, 2018 Idaho Pizza 7100 W. Fairview Ave. Boise Opens 11:30 AM. Info:- jerryrthomas.jt@gmail.com
Sep 22-23, Calgary, AB
Railway Days at Heritage Park.10:00am-5:00pm. Double-heading of Heritage Park's two steam locomotives. Info:- www.heritagepark.ca/plan-your-visit/event-calendar/railway-days.html
Oct 6-7, Rickreall, OR
Grange Flea Market and PSR Open House 9am-3pm. Hosted by the Polk Station Rail, Model Railroad Club. We are located on the 2nd floor of the Rickreall Grange Hall in Rickreall, Oregon on Hwy 99 with easy access Info:- www.trainweb.org/psr
Oct 6 (Sat), Battle Ground, WA
45th Annual Great Train Swap Meet 9:30 am - 2:30 pm Adults: $5, students $3, under age 6 free with adult. Battle Ground High School gym 330 Main St., Battle Ground WA From I-5 exit 11, take WA-502 East 8 miles direct to location Railroad models and materials in all scales and RR memorabilia Customer parking: North of gym off Parkway Ave. Vendor info: Larry Sprenkel 360-619-8899 larry.sprenkel@gmail.com Six-foot tables @ $20.00 Sponsored by Southwest Washington Model Railroaders of Vancouver, Washington.
Oct 13-14, Chilliwack, BC
Mount Cheam Lions Club Model Railway & Hobby Show, Sat 9am-5pm. Sun 10am-4pm. Heritage Park, 44140 Luckakuck Way, Chilliwack, (Freeway Exit #116) Parking by donation. Info:- Bob Jones Phone: 604-858-7659
Oct 13 (Sat), Calgary, AB
39th Annual Boomer Auction, Sponsored by South Bank Short Lines Association. St Andrews Presbyterian Church, 703 Heritage Dr. SW, Calgary. Setup and viewing 08:30am, dining car opens 09:30 am, auction starts at 10:00am. Info:- John Wrinch, (403) 281-5745, jawrinch@shaw.ca
Oct 13-14, Spokane, WA
River City Modelers open house, 1130 E. Sprague Ave., Spokane, WA 99202. Visit the River City Western HO scale model train layout. The 45 x 40 ft. two-level layout is a work in progress. Much of the scenery is completed, track work is mainly done and details are being worked on. There are approximately 19 scale miles of main line track. Open from 4 to 8 PM on Saturday and Noon to 4 PM on Sunday. Contact 509-535-3462 for more information.
Oct 14 (Sun), Calgary, AB
CMRS Fall Mini Meet and Annual General Meeting, Glenmore Inn. Clinics, Show & Tell, Info:-www.calgarymodelrailway.ca/mini-meets.html
Oct 14 (Sun), Spokane, WA
The Spokane Train show by the River City Modelers. 9:30 AM until 3:30 PM at the Spokane Fair & Expo Center, Bldg. A, B & C, 404 N. Havana St. Over 200 tables of railroad related items for sale - model & toy trains, photo's, books, toy autos & trucks, bridges & buildings, Train memorabilia, old lanterns, signs, china, linens, switch locks & keys & much more. Operating train layouts in N, HO, S, O, and G Scales plus a very large Free-mo layout. Operations lifesaver will be there too. Admission $6.00, 12 & under free. For more information and table rentals contact: Shirley Sample, P.O. Box 3065, Spokane, WA 99220 or cell 509-991-2317, home 509-292-8332. Email: shirley@busnws.com
Oct 20 (Sat), Boise, ID
The 3rd Division Fall Meet at Shepherd of the Valley Lutheran Church, 3100 S. Five Mile Rd., Boise, ID 83709 (Victory and Five Mile). Opens 8:00 AM. Info:- jerryrthomas.jt@gmail.com
Oct 20 (Sat), Edmonton, AB
MMRF Fall Swap Meet: Central Lion's Senior Citizens Recreation Centre 11113 113 St. 9AM-Noon, Admission $3, vendor tables $25 Info:- Ric Francoeur, swapmeet@mmrf.ab.ca www.mmrf.ab.ca
Oct 28 (Sun), Airdrie, AB
Iron Horse Park Halloween Fund Raiser for the Airdrie Food Bank. 11:00AM to 4:00PM. 820 Railway Gate SW
Nov 2-3, Coeur d'Alene, ID
Inland Northwest FREE-mo-N Fall Show 2018, Coeur d'Alene Public Library 702 E Front Ave,. Friday, Nov. 2nd - 10AM to 6PM Saturday, Nov. 3rd - 10AM to 5PM. Free Ad6ission! The largest operating modular train layout in North Idaho. Info:- oregonshortline@gmail.com, inlandnorthwestfree-mo-n.weebly.com/
Nov 10 (Sat), Kent, WA
Boeing Employees Model Railroad Club Annual Swap Meet, 525 4th Avenue North, Kent Commons. 9:30am-4:00pm. $8.00 admission, under 16 free. Info:- Ed Sherry, 550 SW Colewood Lane, Normandy Park, WA 98166; 206-244-3884 or swapmeet@bemrrc.com www.bemrrc.com
Nov 10-11, Vancouver, BC
Vancouver Train Expo 2018 at the Pacific National Exhibition Forum, 2901 East Hastings Street. Saturday - 10 am to 6 pm; Sunday - 10 am to 5 pm Adults $12, Seniors (60+) $10, Youth (6 to 15yrs) $6, Children under 6 Free, Family Rate $30, NMRA members $10. Info:- www.vancouvertrainexpo.ca
Dec 1 (Sat), Rickreall, OR
WVMRC annual Railroad Show and Swap Meet: Polk County Fairgrounds, 520 S. Pacific Hwy. West (Hwy 22 and Hwy 99W 10 miles west of Salem).9:30 AM-2:30 PM. Over 100 tables, all scales of trains. Admission: Adults $5, children under 12-free, 8 ft. tables $30 each. Info:- Judy MacInnes, 503-581-6071, macinnej@msn.com, www.wvmrm.webs.com
2019
Mar 23-24, Moose Jaw, SK
Model Train Show. Sponsored by the Thunder Creek Model Railroad Club. Western Development Museum, 50 Diefenbaker Drive. The museum is open from 9 a.m. to 5 p.m. Admission is $10.00 for adults which then provides full access to the show and all museum exhibits. There is no charge for show participants or vendors who may rent tables for a small fee. Info:- www.tcmrc.org
Apr 13-14, Calgary, AB
SUPERTRAIN 2019, Canada's Largest Model Train Show; 9 AM to 5 PM both days. Genesis Centre, 7555 Falconridge Blvd. NE, Calgary. FREE PARKING at McKnight-Westwinds C-Train Station with free shuttle. Adult - $15, under 16 - free. Over 70,000 sq. ft. of operating layouts, exhibits and displays, railroad artists, hobby shops, model manufacturers, demonstrations, clinics, museums and railroad historical associations, Lego and Thomas Play Area, garden railways, ride-on trains, and much more. Info:- www.supertrain.ca or email to info@supertrain.ca
May 25-26, Carstairs, AB
Model Train and Hobby Extravaganza, Carstairs Curling Club, 350 11th Ave (West of CO-OP). Saturday 10am-5pm, Sunday 10am-4pm; admission $5.00, kids 5 and under free. Info:- Rick, 1mvmrc@gmail.com, 403-556-8121 (home), 403-507-3314 (cell)
May 29 - Jun 2, Cranbrook, BC
The Kootenay Express 2019 Pacific Northwest Region Convention at the Prestige Inn. Clinics, model contest, AP evaluations, prototype and layout tours and much more. For updates see: www.kootenayexpress2019.ca
To add your activities to the 'PNR Train Orders' (regular member email), or this PNR web page, contact the Timetable Editor, Mark Johnson at (780) 436-2480,
President: Kurt Laidlaw
Phone: 253-495-8351
email:
Vice President: Bob Parrish MMR
Phone: 208-866-4601
Email:
Secretary: Jerry Enders
Email:
Treasurer: Dave Liesse
Phone: 253-343-3455
email: nmradave@liessefamily.net
Asst. Treasurer (Canada): L. A. (Larry) Sebelley
Phone: 604 858 5717
Email: sebelley@shaw.ca
Asst. Treasurer (US):

Office Manager: Ed Liesse
Phone: 253-529-7405
Email: EELiesse@aol.com
Immediate Past President: Jack Hamilton MMR
Phone: 509-292-8332 Email: gradiver@wavecable.com
Email:
Achievement: Jack Hamilton, MMR
Phone: 360-308-9845
email: gradiver@wavecable.com Regional AP Information
Ballot, USA: Volunteer wanted
Ballot, Canada: Richard A. Sutcliffe
Phone: 604 467 4301
Email: ras1@uniserve.com
Contest: John DeSteese
Phone: 509-783-4665
email:
Convention:
L. A. (Larry) Sebelley
Phone: 604 858 5717
Email: sebelley@shaw.ca
Education: Volunteer wanted

President's Award: Dave Liesse
Phone: 253-343-3445
email:
Membership: Shirley Sample
Phone: 509-292-8332
Email:
Nominations: Brian Stokes
Phone: 780-904-1168
Email:
PNR Registered Agent: Elaine Crueger
Phone: 541-847-5779
Email:
"SWITCHLIST" Editor: Greg Kujawa
Phone: 406-589-6256

Webmaster: Mark Johnson
Phone: 780-436-2480
email: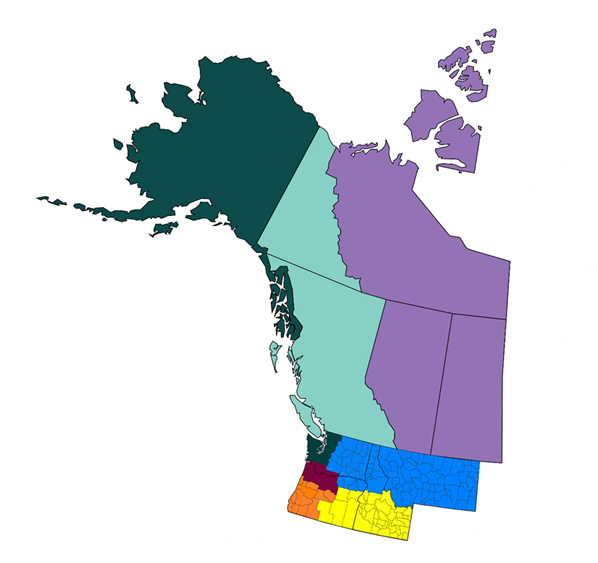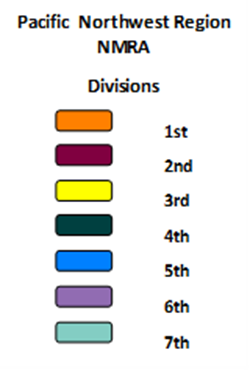 All Division boundaries coincide with those of the Canadian Provinces and Territories or the American States except as described below:
---
Most recent update (except for events): September 2, 2018
This NMRA on the Web page is maintained by:
Mark Johnson, Mark.Johnson@InfoHarvest.ca.
This NMRA on the Web page is hosted by:
InfoHarvest Inc.
Copyright 1995-2018 by the National Model Railroad Association. All Rights Reserved.